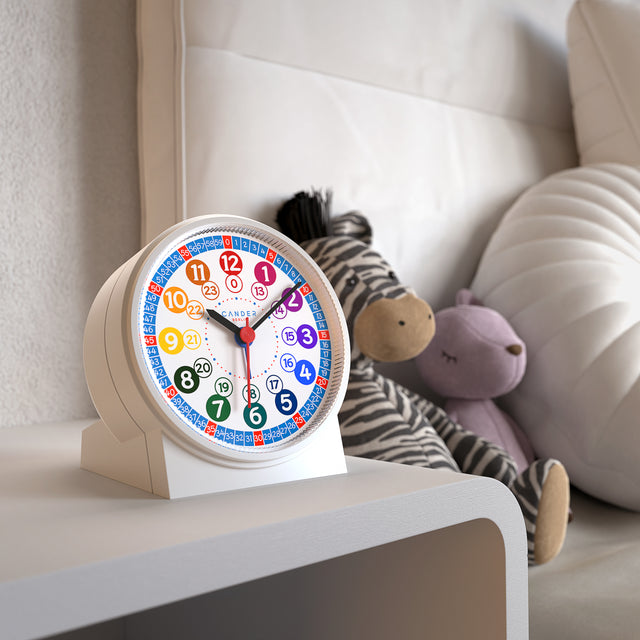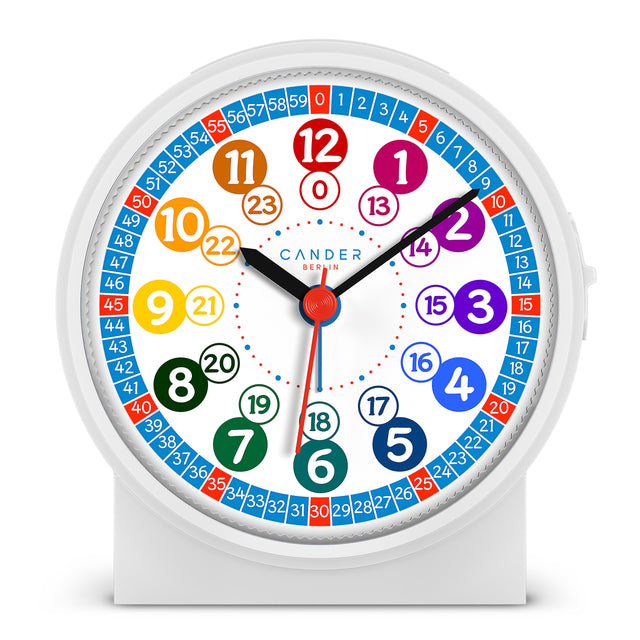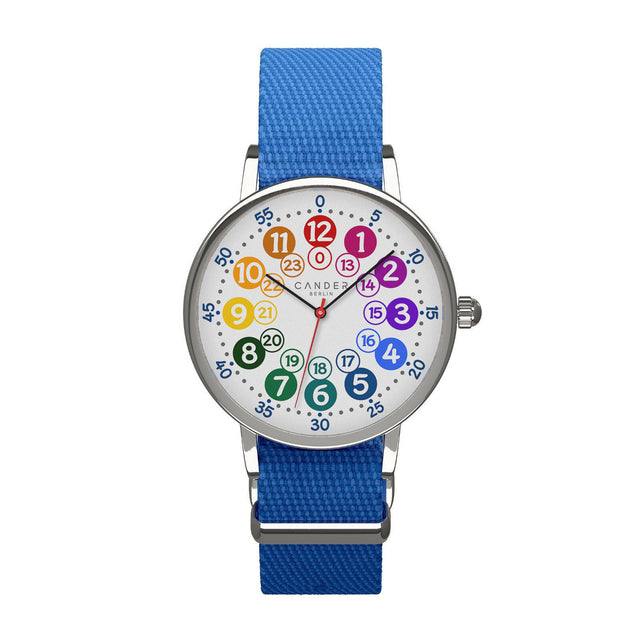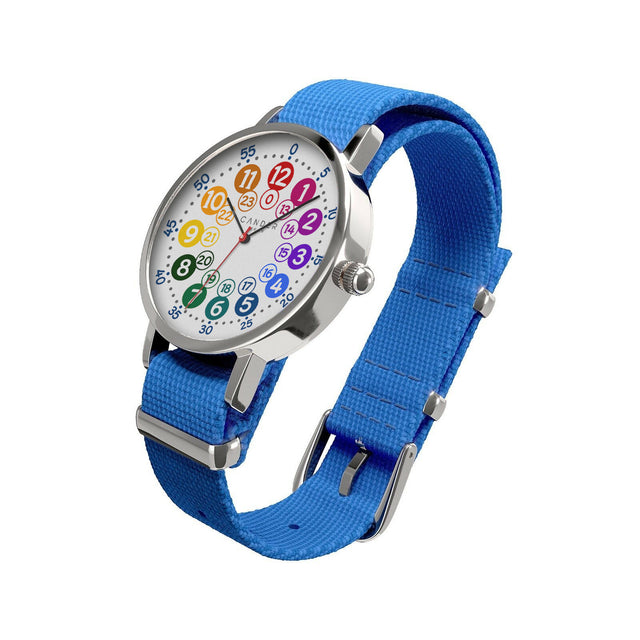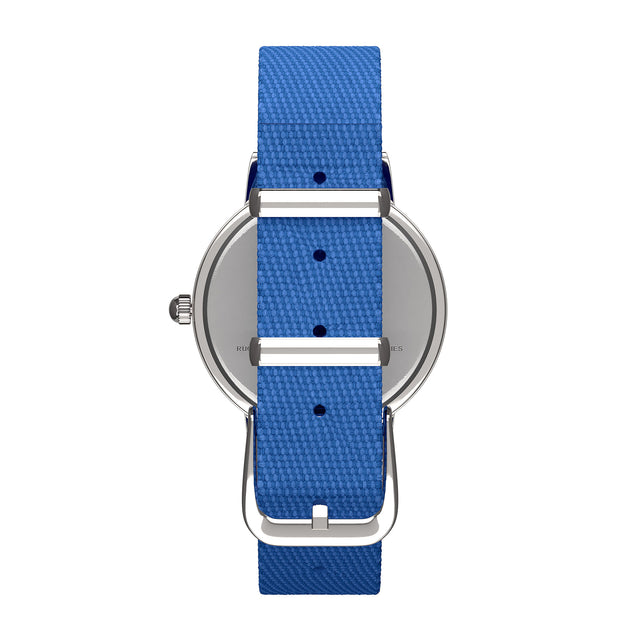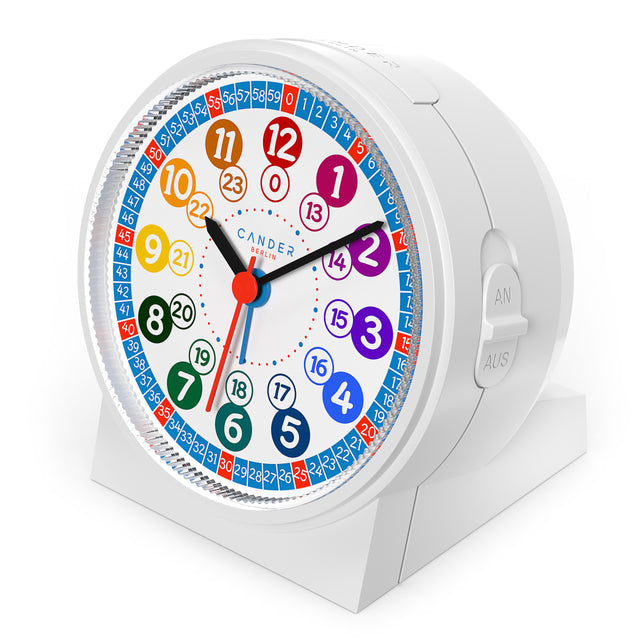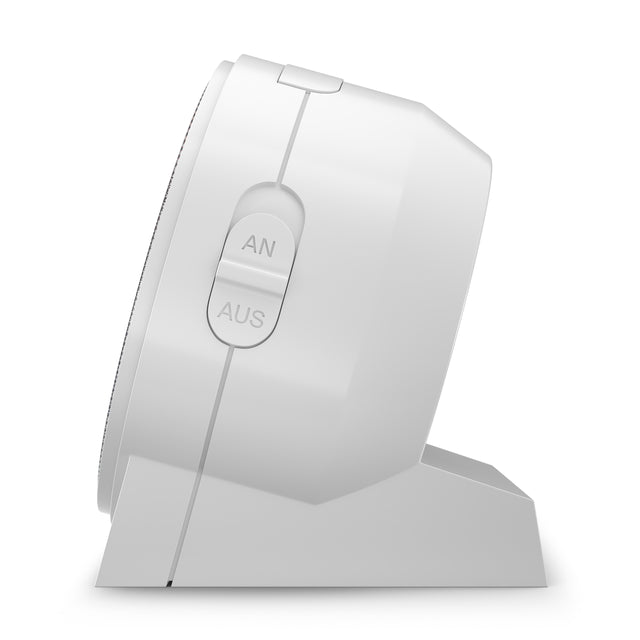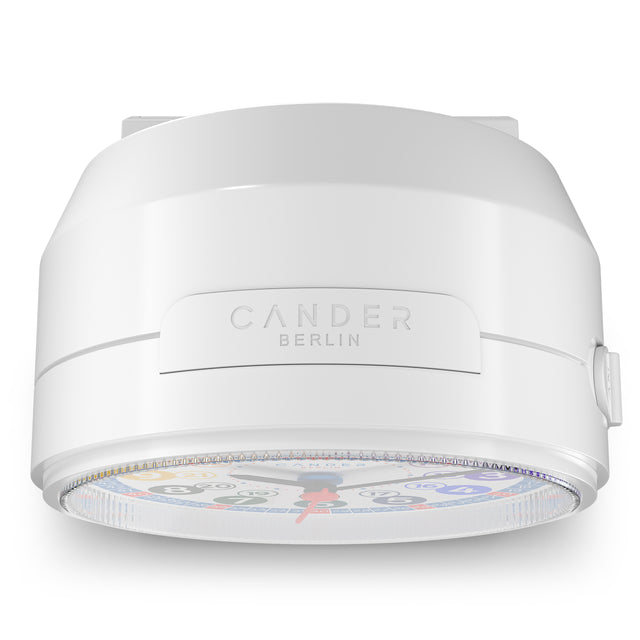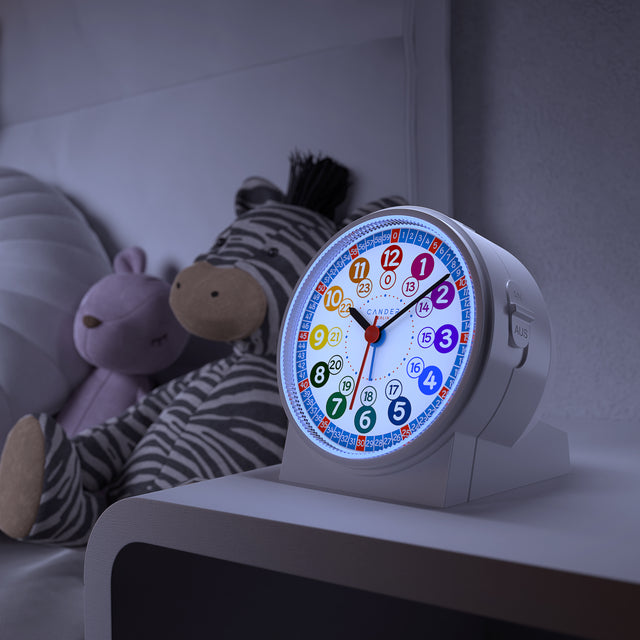 MNU 1009 S children's alarm clock with light and MNA 1030 J blue wristwatch
Alarm
Integrated silent sweep clockwork - no annoying ticking
5 seconds LED dial illumination at the push of a button
Colorful learning watch face with 12 and 24 hour time format
Snooze function stops the alarm sound for about 5 minutes
Alarm clock has a diameter of 10.8 cm and a depth of 7.5 cm
Teach your child to read the clock in a playful way in just a few minutes with the MNU 1009 alarm clock from Cander Berlin, regardless of age and learning abilities. The textured yet colorful learning watch face makes it easy to tell the time from bed and from a distance. The alarm clock is suitable for children, has no sharp edges, is stable and has a handy size. It has a diameter of 10.8 cm and a depth of 7.5 cm. The children's alarm clock has a low-noise sweep clockwork - there is no annoying ticking or buzzing to be heard. The pointer creeps along almost silently and doesn't rob your children of sleep or nerves. The alarm clock is also characterized by its ease of use. It has a button on the top that is responsible for the alarm repeat (snooze function, snooze) and the lighting. With the snooze function, you stop the alarm sound for about 5 minutes. The dial illumination turns off automatically after 5 seconds. On the right side there is a switch that is responsible for switching the alarm function on and off. The alarm clock does not require a power connection as it is equipped with a battery-operated quartz movement. The light and clockwork are powered by a total of three 1.5 volt AA batteries, which are not included with the product.
| | |
| --- | --- |
| Product height | 10.8cm |
| Product width | 10.8cm |
| Product depth | 7cm |
| Product weight | 80g |
| | |
| --- | --- |
| package height | 12cm |
| Packaging width | 12cm |
| packaging depth | 8.8cm |
| Packaging weight | 210g |
---
Watch
Clock diameter is 30mm
High-quality Japanese Seiko movement including battery
Watch is splashproof, but not suitable for full immersion in water
Breathable washable quick release fabric wristband in blue
Child watch is suitable for both boys and girls
The wristwatch is powered by a high-quality Japanese Seiko movement and ensures reliable time display. It features a woven fabric strap and a metal case with a polished stainless steel base. The children's watch is splash-proof (1 ATM). Due to the well-structured dial, the watch enables you to learn how to read the digital time with an analogue watch. It displays both 12-hour and 24-hour digital time format. The colorful design makes learning even more fun.
| | |
| --- | --- |
| Product height | 23.7cm |
| Product width | 3.0cm |
| Product depth | 0.7cm |
| Product weight | 20g |
| | |
| --- | --- |
| package height | 19.5cm |
| Packaging width | 5.5cm |
| packaging depth | 2.8cm |
| Packaging weight | 100g |
Größe und Gewicht
Technische Details