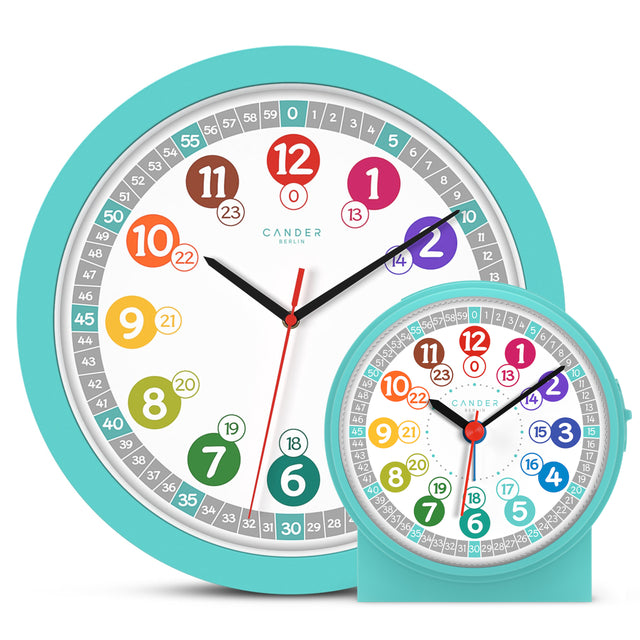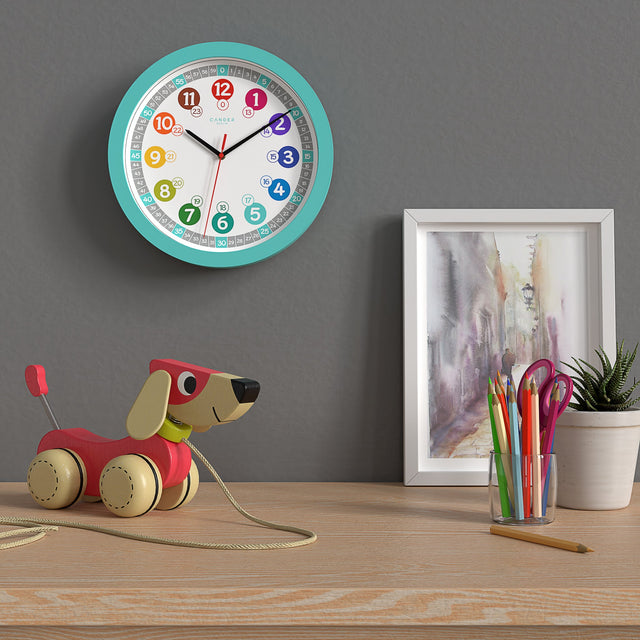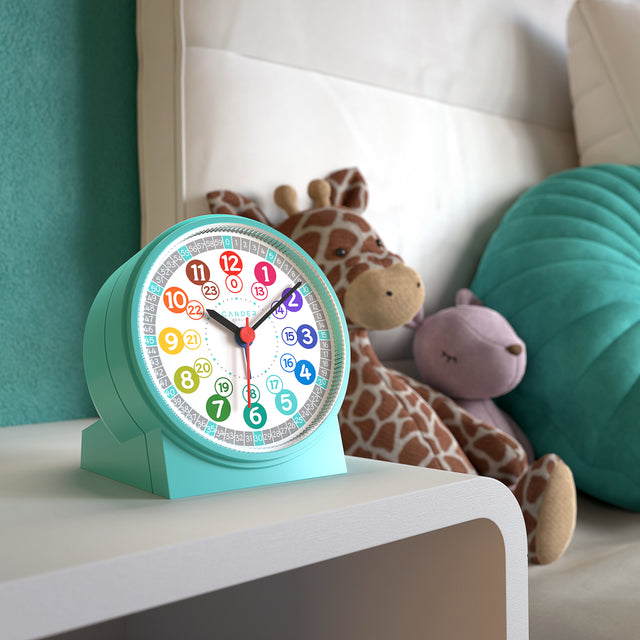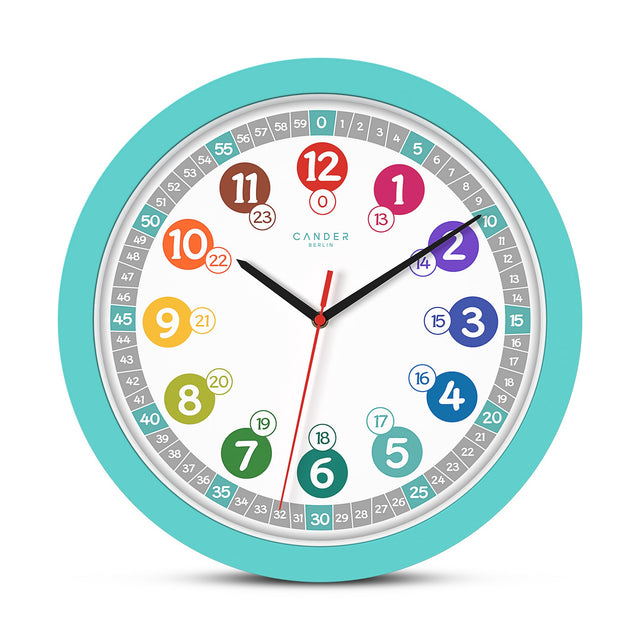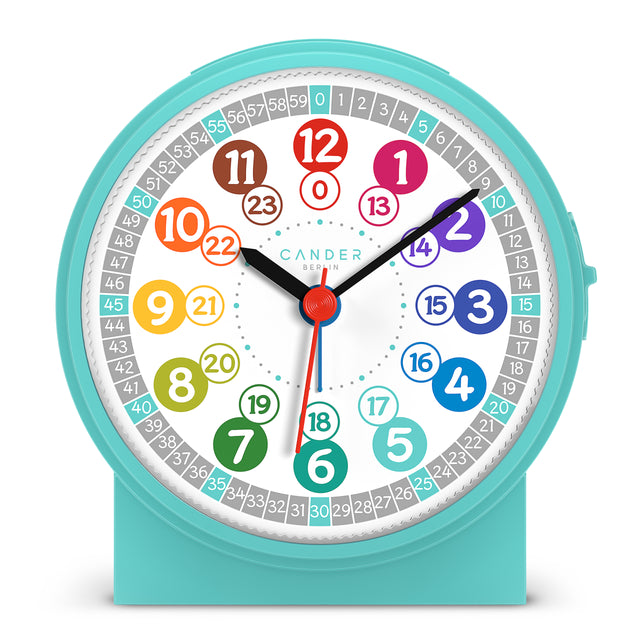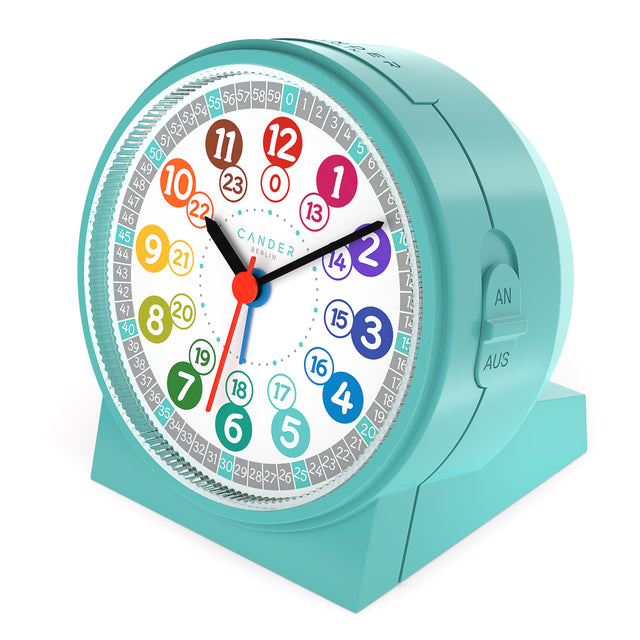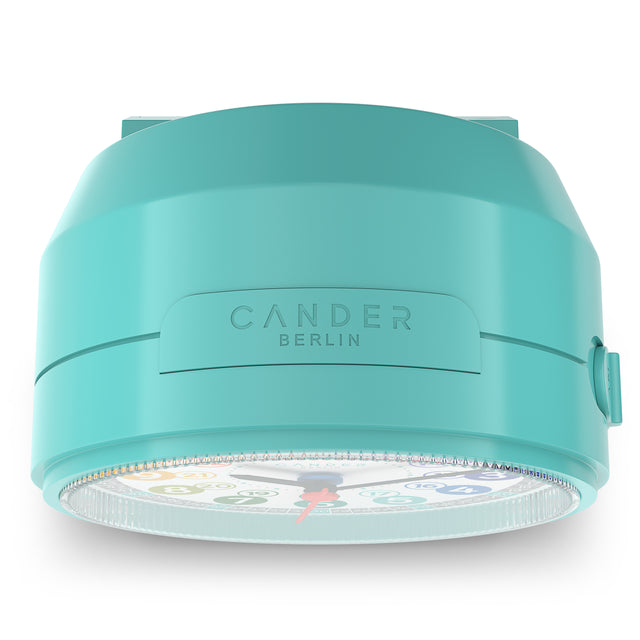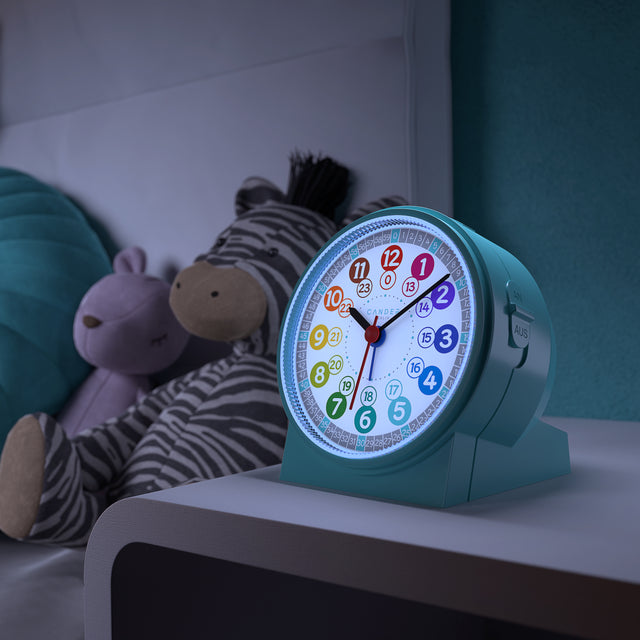 MNU 1030 T silent children's wall clock and MNU 1009 T children's alarm clock with light
wall clock
Analogue wall clock diameter: 30.5cm
Silent clockwork without ticking
Blue plastic frame (high gloss)
Textured Learning Dial
This colorful children's wall clock makes children's hearts beat faster and gives every child's room a homely look. It is surrounded by a blue high-gloss plastic frame and is equally suitable for girls and boys. It has a diameter of 30.5 cm and a depth of 5 cm. The product features a silent sweeping seconds movement that does not make any ticking noises. The children's watch is perfect for learning as the 12 and 24 hour time format is shown on the dial. A 1.5 volt AA battery, which is not included in the scope of delivery, is required to operate the wall clock.
| | |
| --- | --- |
| Product height | 30.5cm |
| Product width | 30.5cm |
| Product depth | 5cm |
| Product weight | 470g |
| | |
| --- | --- |
| package height | 32cm |
| Packaging width | 34cm |
| packaging depth | 9cm |
| Packaging weight | 980g |
---
Alarm clock
Silent clockwork (no ticking)
5 seconds LED dial illumination at the push of a button
Colorful Learning Dial
Stopping the alarm sound thanks to the snooze function
Diameter: 10.8 cm (depth: 7.5 cm)
This colorful learning alarm clock makes getting up in the morning so much easier. This children's watch is perfect for learning the time as it displays both 12-hour and 24-hour digital time formats. The diameter is 10.8 cm and the depth is 7.5 cm. The integrated clockwork works almost silently and, thanks to the creeping second hand, does not make any ticking noises. In the dark, this learning alarm clock can be illuminated with the button on the top of the housing and the time can be read. Since this button is also responsible for the snooze function, the alarm can be paused for about 5 minutes. The product does not require a power connection. The dial illumination and the movement are powered by a total of three 1.5 volt AA batteries, which are not included.
| | |
| --- | --- |
| Product height | 10.8cm |
| Product width | 10.8cm |
| Product depth | 7cm |
| Product weight | 80g |
| | |
| --- | --- |
| package height | 12cm |
| Packaging width | 12cm |
| packaging depth | 8.8cm |
| Packaging weight | 210g |
Größe und Gewicht
Technische Details