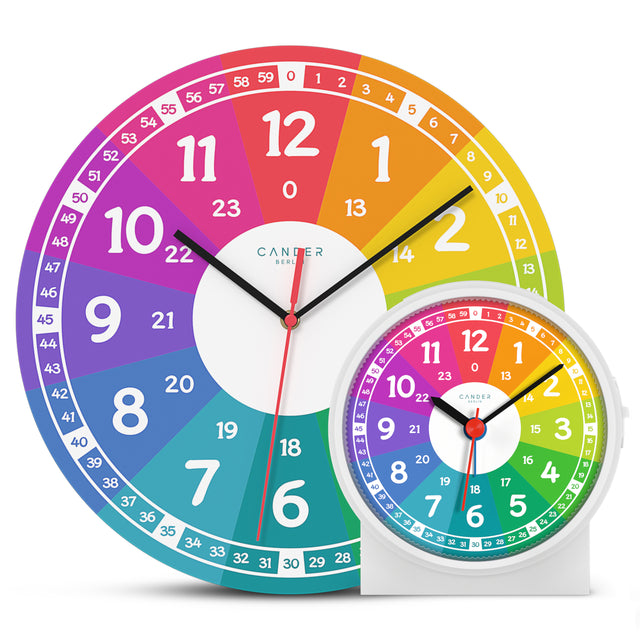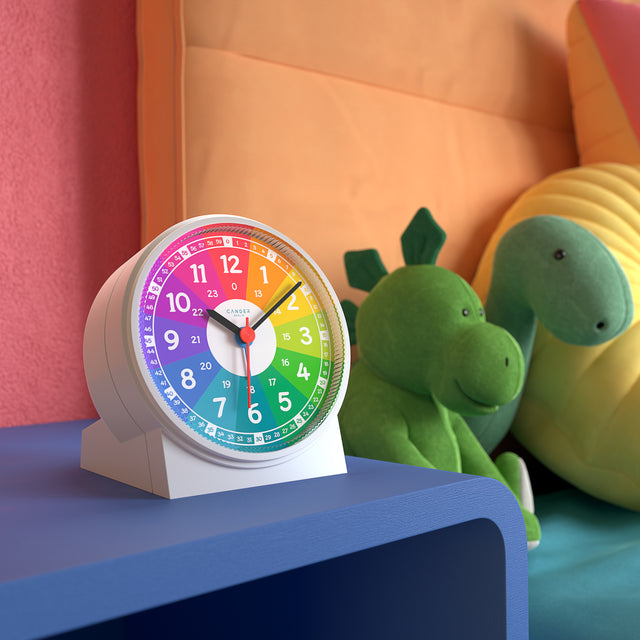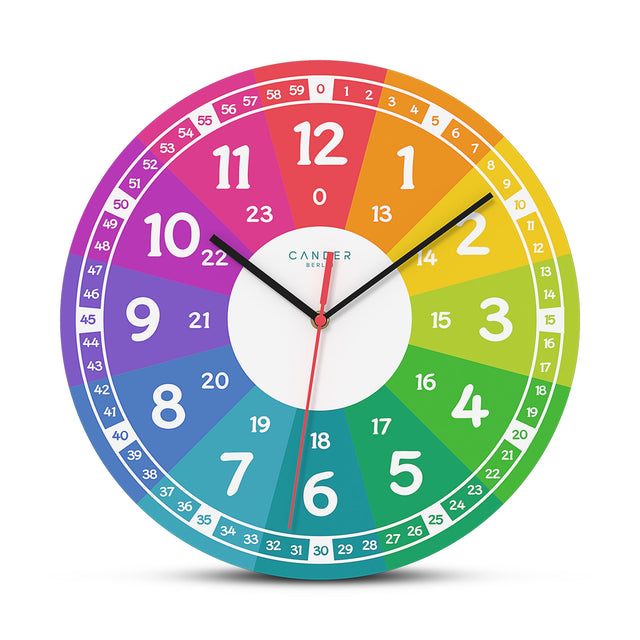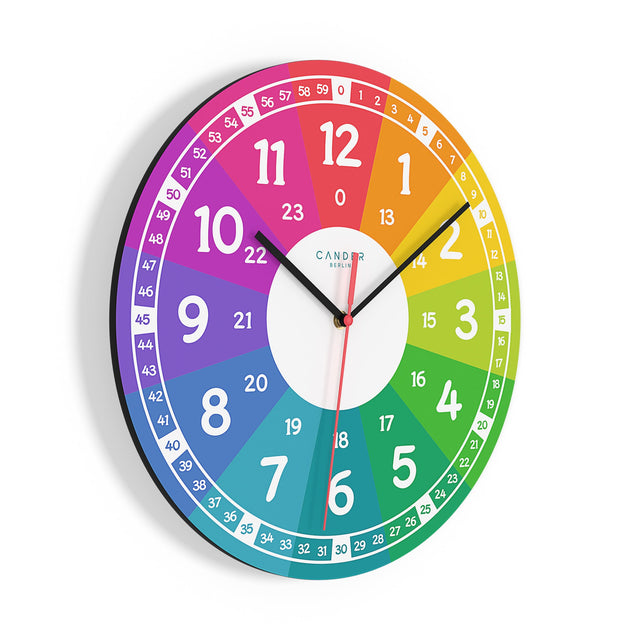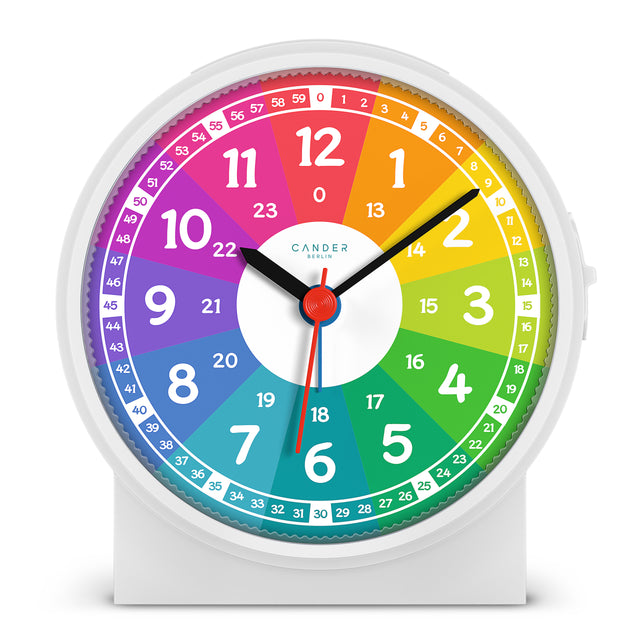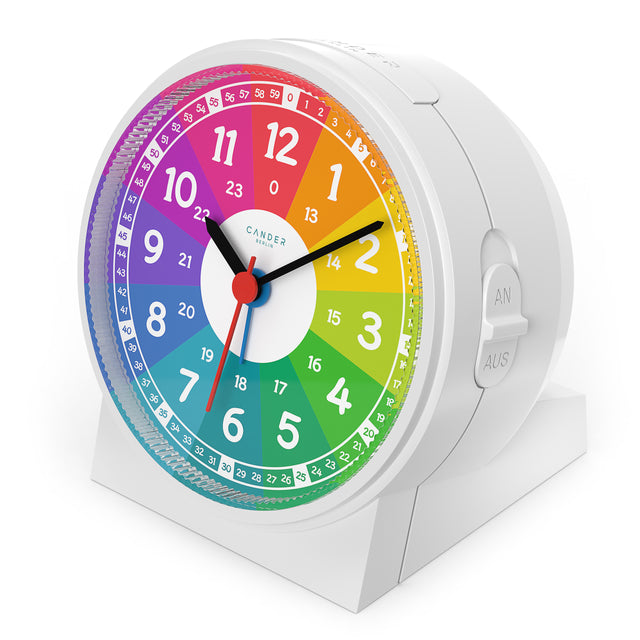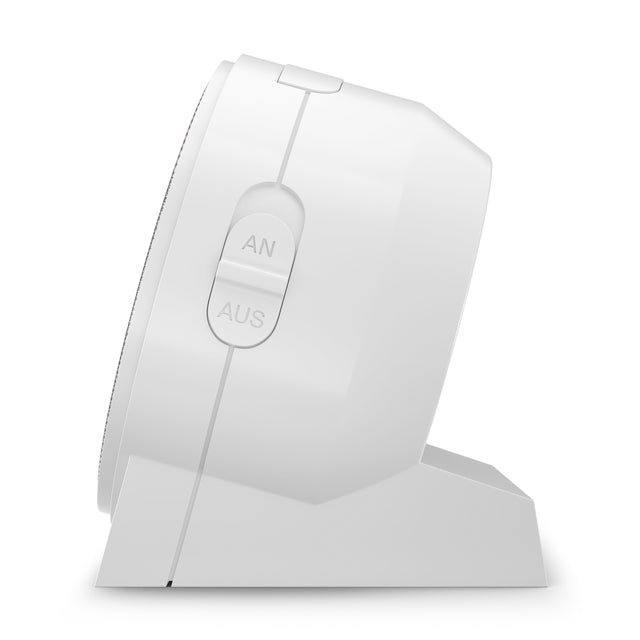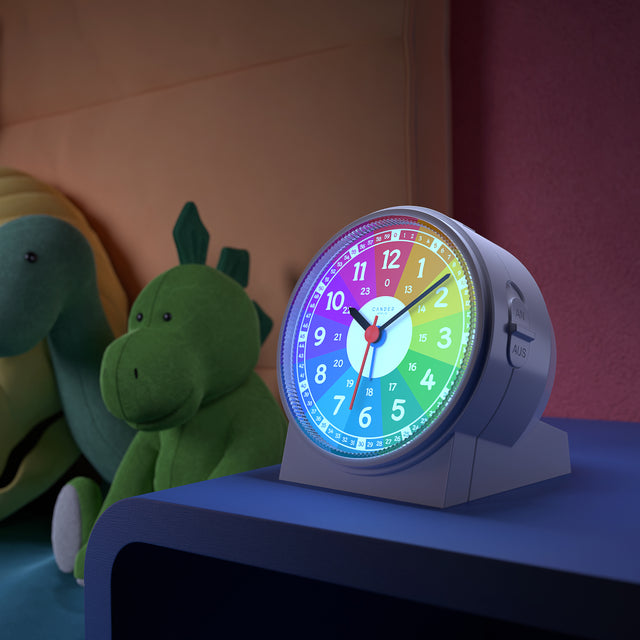 MNU 7930 R silent children's wall clock and MNU 1009 R children's alarm clock with light
wall clock
Wall clock for playroom and children's room
Material: MDF (with digital printing)
Diameter: 30.5 cm
Silent clockwork with no ticking noises
Suitable for boys and girls
The elaborately and lovingly designed children's wall clock surprises with many small details and should not be missing in any room. It is perfect for teaching young people how to read the clock as the dial shows both 12 and 24 hour time format. The material MDF is used for the wall clock and lovingly provided with a colorful digital print. A 1.5 volt AA battery is required to operate the wall clock, which is not included.
| | |
| --- | --- |
| Product height | 30.5cm |
| Product width | 30.5cm |
| Product depth | 5cm |
| Product weight | 310g |
| | |
| --- | --- |
| package height | 32.5cm |
| Packaging width | 33.5cm |
| packaging depth | 7cm |
| Packaging weight | 690g |
---
Alarm clock
Silent clockwork (no ticking)
5 seconds LED dial illumination at the push of a button
Colorful Learning Dial
Stopping the alarm sound thanks to the snooze function
Diameter: 10.8 cm (depth: 7.5 cm)
It's much easier to get up early in the morning with this colorful alarm clock. It is perfect for learning the time as it shows both 12-hour and 24-hour digital time format. The integrated movement is almost silent and makes no ticking noises thanks to the creeping second hand. In the dark, this learning alarm clock can be illuminated on the housing to read the time. Since this button is also responsible for the snooze function, the alarm sound can be stopped for about five minutes. The alarm function can be switched on and off via a slider on the side of the housing. The product does not require a power connection. To operate the lighting and the clockwork, a total of three 1.5 volt AA batteries are required, which are not included with the product.
| | |
| --- | --- |
| Product height | 10.8cm |
| Product width | 10.8cm |
| Product depth | 7cm |
| Product weight | 80g |
| | |
| --- | --- |
| package height | 12cm |
| Packaging width | 12cm |
| packaging depth | 8.8cm |
| Packaging weight | 210g |
Größe und Gewicht
Technische Details